Al Monjazeb helps raise $55,000 for Seattle Children's from Donation of the One-Millionth Toyota Tacoma Produced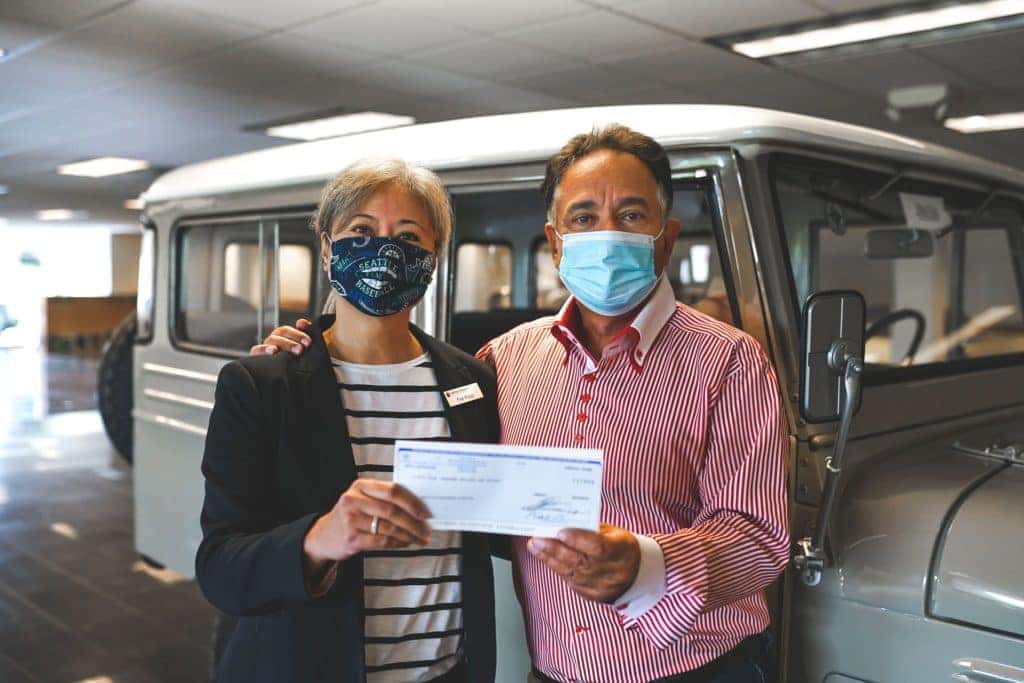 Pictured: Eve Kopp, Director of Development, Corporate Events at Seattle Children's Foundation and Al Monjazeb, owner of Toyota of Bellingham. Photo courtesy of William Walker for Toyota of Bellingham.
In 2021, Al Monjazeb raised around $55,000 for Seattle Children's Hospital. The donation came from proceeds of the sales of the 2020 one-millionth Toyota Tacoma produced.
On the weekend of Mid August 2021, He auctioned off this precious Army Green 2020 Toyota Tacoma. The auction was done via Mecum.com, the top-rated classic cars auction site.
Al Monjazeb claimed that Seattle Children's Hospital was always a good fit to enjoy his donation. He claimed this is because the foundation prioritizes children's care.
"As a father of two daughters and female siblings, Seattle Children is precious to my heart. My company has donated to the foundation for the past decade. We wish to contribute even more with the revenue of this wonderful truck," Al Monjazeb explained.
Al Monjazeb said when the deal was successful, he knew the good fortune had to be shared with the needy.
His numerous contributions to the foundation will help it achieve its mission. The foundation's mission is to provide care, hope, and cures to help every child live a healthy and fulfilling life.
"We at Seattle Children's Hospital show our immense gratitude to AI Monjazeb and his dealership. We're pleased with the donation of $55,000 in auction proceeds from the sales of the limited edition Toyota Tacoma," Said Eve Kopp, Director of Community Events & Programs for Children's Hospital & Research.
"The foundation would split the proceeds between our uncompensated care fund and mental and behavioral health initiatives."
She explained that both sectors ensure the foundation achieves its aim and objectives.
"When you get to the market to seek a new truck, getting the Army Green 2020 Toyota Tacoma comes with the heartwarming feeling that you're helping some kids live their healthiest and most fulfilling life."
About Seattle Children's Hospital | By Al Monjazeb

Seattle Children's Hospital, formerly known as the Children's Hospital and Regional Medical Center, is located in Seattle, Washington. The foundation specializes in caring for young children, teens, and adults aged 0-21 in various specialties.
U.S. News & World Report ranks the hospital as one of the top children's hospitals in the country. It also serves as the pediatric and adolescent academic medical center for Montana, Washington, Idaho, and Alaska.
The hospital provides general medical and surgical care to children. It is ranked nationally in 10 pediatric and orthopedic specialties. In 2016, U.S. News & World Report ranked Seattle Children's Hospital as the #5 best Children's Hospital. The hospital was also ranked #4 in Nephrology, #5 in neonatology, #6 in cancer, #9 in neurology, and #10 in pediatrics.
The hospital's vision is to avail care, hope, and cures to every child irrespective of their background. They hope to help underprivileged children get the possible best out of their life. The hospital collaborates with Research Institute and foundation to source funds to help provide better futures for their patients.
Furthermore, the foundation collaborates with the Seattle Children's Guild Association, the country's largest all-volunteer fundraising network for any hospital. The collaboration is to seek community support and fundraise for unrivaled care and research. You can visit the hospital's website for more information or help.
Review Of The 2020 Toyota of Bellingham One-Millionth Toyota Tacoma | By Al Monjazeb

Introduced in 1915, the Toyota Tacoma is a compact pickup and an improvement to the previous Toyota pickup. The truck is a 2020 Toyota Tacoma TRD Pro in Army Green with a black leather interior.
It was built and engineered to provide a quieter cabin, booster ride quality, and ensure maximum safety when used. Since Tacoma was launched, It has become a trendy vehicle globally, especially in the United States.
It won Motor Trend's Truck of the Year in 2005. The first recognition for the new second-generation Toyota Tacoma, now known as a midsize pickup.
Presently in its third generation, this specific Tacoma got to be the 1-millionth Tacoma Pickup developed. This Tacoma, a top-of-the-line TRD Pro, is equipped with a 3.5L/278 HP DOHC V-6 engine. Other features include a 6-speed automatic transmission, a TRD cat-back exhaust system, and a part-time 4WD system.
The " TOYOTA" design is spelled out in a heritage-style grille rather than the conventional oval Toyota emblem. This distinctive appearance is perhaps the most vivid way to differentiate the Truck from other vehicles.
The exterior also adds a new look, including the wheel arch flares and 16-inch TRD Pro alloy wheels. Other exterior part includes a hood scoop insert and the contrasting black shades to the Army green body.
Features
3.5-liter V-6 engine
6-speed automatic transmission
Apple CarPlay, Amazon Alexa smartphone, and Android Auto integration
A 10-way power-adjustable driver's seat
The power driver's seat includes thigh adjustment and seat height
Newly built-in underbody cameras and surround-view to enhance off-road visibility
Recalibrated transmission logic
This beauty was finished in October 2019. The location was San Antonio, Texas, factory of Toyota. The end-product was followed by a letter of congratulations. There are many Tacomas per year, but this will forever be the "1-millionth Tacoma built."
The midsize pickup truck market is steadily increasing. However, this particular Toyota Tacoma is still popular among many shoppers. It's one of the most well-round pickups available presently, with a wide range of features embedded in it.
About Mecum Auctions

Mecum Auctions is the world leader in live auctions. The company auctions collectors, classic cars, vintage tractors, antique motorcycles, and Road Art Memorabilia. The auction events are organized within the entirety of the United States.
Mecum Auctions Headquarters are in Wisconsin and Walworth. The company has been ranked No. 1 globally in several collector cars presented for auction since 2011.
Furthermore, it has the highest number of collector cars sold. It's also ranked first in the United States with several auction venues and total dollar sales volume.
Mecum Auction hosts the largest collector car auction and motorcycle auction annually. For 32 years, The company has been specializing in selling collector cars. It now offers 20000 collector cars annually- the highest in the industry.
Notable Charitable Partners of Toyota of Bellingham | Al Monjazeb

Children's Shriners Hospitals
Children's Shriners Hospitals is a global network of 22 hospitals and healthcare institutions. It's located across the globe, including the United States, Canada, and Mexico.
These institutions offer advanced care to children and young people under 18. Their patients include children with orthopedic disorders, spinal cord injuries, burns, and palate.
The hospital provides pediatric specialty care, research, and excellent educational avenues for medical practitioners. Their commitment is to better the lives of children through these services.
Children under 18 with orthopedic issues will receive care and expert services in a welcoming setting. They cater to every child regardless of their capacity to pay.
The Iranian American Community Alliance IACA

IACA is a non-profit organization based in Seattle that is non-political and non-religious. It was founded to promote unity and strength among Iranian American community and help the entire city of Seattle.
A dedicated group of volunteers leads the community in its efforts to develop bridges within and between the Iranian American society. This effort also encompasses neighbors in the broader Seattle area.
The organization's mission statement states that it's a cultural and community-based organization that focuses on educational and cultural events. Their focus includes events such as the Seattle Iranian Festival, community services for kids, leadership development, etc.
The IACA teams collaborate with other recognized communities to promote the ideals of diversity, solidarity, and togetherness.
The Lion Whisperer Conservation
The Lion Whisperer is a non-profit foundation centered on nature's most magnificent species, the lion. This organization was founded in early 2018 by Kevin Richardson. It's dedicated to altering and reversing the status of Africa's diminishing lion population.
The organization intends to acquire habitat and increase awareness to establish secure, natural areas. These areas will ensure lions and other native animals may. The foundation also strives to reduce human/wildlife conflict while improving living circumstances for local villages.
They are collaborating with specialized organizations. Furthermore, the company interacts with disadvantaged populations on the outskirts of these protected areas.
Kevin Richardson's extraordinary friendship with some of Africa's apex predators has opened many doors and captured the imaginations of people all around the world. He has hosted and produced several documentaries.
The Lenny Wilkens Foundation
The Lenny Wilkens Foundation seeks to provide every kid an equal chance in all aspects of life. Children must have equal opportunities to achieve if they become community leaders.
Children have the right to essential infrastructures, such as excellent healthcare and education, regardless of where they live or their capacity to pay. The Lenny Wilkens Foundation tries to bridge this gap by providing these infrastructures to disadvantaged youngsters.