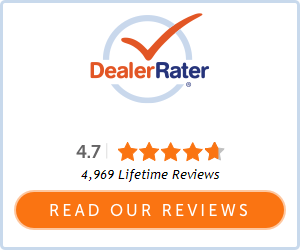 We love to hear feedback from our customers. We rely on your comments and reviews so we know what we are doing well and what we need to work on. If you have the time to share your experience here at Toyota of Bellingham, we would appreciate your feedback! Don't hesitate and leave your comments, questions and concerns below, or you can simply take a look at what other people have already shared.
I worked with Marcy and Sean to get a deal on a new vehicle. They were kind and helpful, and respected the situation that brought me in.



Marcella S
Went in because I heard they could help people with not-so-excellent credit, not expecting much because I've been turned down so much before. Dino was my salesman and and he exceeded my expectations. he said he would do his best to get me into a car in my price range that day and he did! I got the car I wanted with an awesome interest rate and low monthly payments. everyone I encountered the whole day was really nice and helpful and I'll definitely be going back there for my next car purchase. thanks Dino and everyone else of the ToB family that helped me that day!



Stephanie M
It was quick, and they worked with my busy schedule. Will definitely go back. It's a great car.



Diane P
My experience at Toyota of Bellingham was fantastic in every way. First impressions: the spacious lobby with lounge, coffee, piano, resident dog, and helpful staff is a welcoming ambience. And then the process of researching and buying a car (which I had approached with trepidation) turned out to be entirely comfortable and enjoyable. I visited the dealership 4 times before deciding and throughout the process, the salesman Roy Amrani was genuinely friendly, informative, and attentive. Through his efforts, I got the car I wanted and at an excellent price. I am totally happy with my new Yaris and with the service I received at this dealership. Thank you Roy, and the rest of the staff!



Marjorie B
RJ was so personable and very helpful finding finance options. He went out of his way to show me the cars I was interested in and also made suggestions on a few other make and models that fit my lifestyle. I guess the best thing about shopping here was RJ's willingness to actually listen to my needs instead of just selling me a car! Thanks RJ! I will be back and plan to tell my friends where to go for their next car purchase.


Kimberly R
Walking into a car dealership can be a little intimidating sometimes...not so with this dealership. You walk into this one and feel like you are a guest in somebody's home. I have a little dog named Louie who has some separation anxiety and he was greeted with kind words and friendly pets, which pleased me even more. I have been saving for a Rav4 for about 5 years ad I went in and told Julian and Dax what I wanted and they had it for me the next day! Noice! Everybody there was super friendly and professional. Shawn came over and thanked me with a warm smile and handshake...very personable. Dax spent quite a bit of time with me showing me all the features on my new Rav and was really patient with all my questions=)



Lisa H
Couldn't expect anything better or more from this dealership!!! The welcoming professionalism is captured in every detail from their quality vehicle selections, competent staff, informative website, and their integrity & best effort in their customer care. By far the best experience I've had at a car dealership or major purchase. We picked this dealership because 1) has the most google customer reviews than any other in B'ham 2) heard that Bob Pellegrini was the best dealer in town 3) Resale on Toyota vehicles 4) while entering the dealership the site manager, Jullian, welcomed any feedback & ensured customer satisfaction 5) Waiting area & restrooms was catered to customers (clean and refreshments callout callout-sm stocked)
We worked with Bob Pellegrini who was knowledgable about the vehicles we were interested in and able to help us compare cost/benefits with all our options including the ones from other auto brands. As we continued considering vehicles his non-pressure communication was always on point and with our best interest in mind. Worked with Rich in financing who was just as professional as his documents were organized, no pressure to purchase any additional warranty, and everything we had expected was in writing beautifully. Price for new vehicle was more than fair and I couldn't be more satisfied. Enjoy your vehicle purchase without buyers remorse and on going customer care.



Deborah C.
The recall work was done in the 4 hour time frame promised.

Diane S.
I recently did damage to my vehicle and chose Wilson Motors to perform the repairs. The feedback and updates on the progress of my vehicle were fantastic. Additionally, I was provided with a loaner vehicle without asking for a vehicle incident that was entirely my fault. Wilson Motors was exetremely accomodating and worked with me every step of the way. Also the work was top notch.

Justin W.
Very pleasant buying experience. Rocki was very professional and answered all our questions.

Albert Beebe
Rocki was a great salesman, knowledgeable but not pushy. Helped me to make up my mind but I did not feel forced into buying. Very easy to talk to I actually decided to buy the second car because he gave me my space and let me think. Would certainly recommend him to friends and family.

Laura & Rachel Stoner
Michael George should have a giant "S" plastered on his chest! Super honest, Super nice, Super easy to work with, Super helpful, and a Super car salesman! Not the typical schmucky car salesman you might have had the unfortunate experience with. He will renew your trust and respect in a car salesman. My husband and I have just purchased our second Prius through Michael, and he made it the most pleasant experience once again! Also excellent follow-up and customer service even after the sale. Thank you Super Michael! We love our Prius'!

Angela Harrasser